Jocida Park Horse Agistment
About us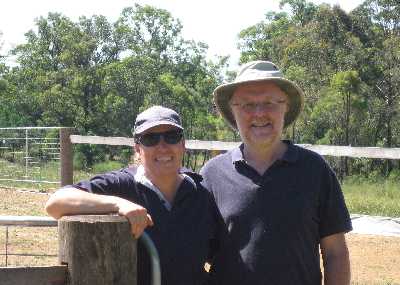 Dear visitors,
Welcome to Jocida Park in Wilton. We are Lucinda and John Hewitt and we moved here in 2010 to set up a place where we can give proper care to our horses (and yours too!).
Lucinda has been deeply involved with the care and showing of horses her whole life, having grown up on her family's horse stud in Hoxton Park, where they bred Welsh ponies and cobs, and Shetlands. The Niscinda stud is very well known among those interested in the Welsh breeds and is now located in Marulan NSW.
John is a structural engineer. We met in 1986 and moved overseas for 10 years, returning to Australia in 1997 and living in Thirroul. Lucinda spent several years running the equestrian events at Bulli Agricultural Show, keeping her horses on agistment and travelling to them several times a week.
In 2010, we found this property, with 37 acres of beautiful rolling grassland, bush and shade trees, in Wilton. It's perfect for horses, but needed work! So during 2011, we slashed, built paddocks, a fully fenced arena and a round yard. It's ready to go. We have three of our own horses here. Manny, a Welsh cob gelding, is Lucinda's main riding horse. Rusty is a two year old Welsh Cob colt, and Sammy is a miniature, with a sweet nature and a companion for any horse that needs a friend nearby (and he's a great lawnmower around the house!).
Lucinda is very careful and attentive with how she looks after the horses. If you bring your beloved horse to us, her care and long experience will be applied to yours too. If you are interested, do give us a call. We would be delighted to show you around.
best regards,

Lucinda and John Hewitt
ph 4630 8549